(2016-Jun-Updated)Examcollection of 70-697 Dumps 84q PDF Free Offered By Braindump2go(NQ61-NQ70)
2016 June Microsoft Official: 70-697 PDF Dumps & 70-697 VCE Dumps with New 70-697 Exam Questions Released Today by Braindump2go.com! 100% Exam Pass Guaranteed!
NEW QUESTION 61 – NEW QUESTION 70:
QUESTION 61
Drag and Drop Questions
You support desktop computers for a company named Fabrikam, Inc.
The computers are members of the Active Directory domain named fabrikam.com.
Fabrikam works with a supplier named Contoso, Ltd.
Each company has a public key infrastructure (PKI), and no public certificate authorities (CAs) are used. Fabrikam employees regularly use a Contoso website that is hosted on a server in the contoso.com domain.
The website requires SSL and mutual authentication.
You need to configure the computers to allow Fabrikam users to access the Contoso website without any warning prompts.
You also need to use the fewest certificates possible.
Which certificate or certificates should you use? (To answer, drag the appropriate certificate to the correct certificate store. Each certificate may be used once, more than once, or not at all. You may need to drag the split bar between panes or scroll to view content.)



Answer:



Explanation:
Note:
– contoso.com provided the resources. contoso.com be the trusted root authorities store
– No untrusted certificates
– Not allow access to local computer account (just to user account)
– user account access through client (user) certificate issued by Contoso
QUESTION 62
You administer computers that run Windows 8 Pro and are members of an Active Directory domain.
The computers are encrypted with BitLocker and are configured to store BitLocker encryption passwords in Active Directory. A user reports that he has forgotten the BitLocker encryption password for volume E on his computer.
You need to provide the user a BitLocker recovery key to unlock the protected volume.
Which two actions should you perform? (Each correct answer presents part of the solution. Choose two.)
A. Ask the user for his computer name.
B. Ask the user to run the manage-bde-unlock E:-pw command.
C. Ask the user for his logon name.
D. Ask the user for a recovery key ID for the protected volume.
Answer: AD
Explanation:
(1) Saying a name does not verify you at all. You can easily find out the name of the owner if you have the access to the PC. For example, open Outlook or simply press Start to verify username. In such cases mobile phone call verification would is preferred, but it is not mentioned in the answers.
(2) It is mentioned in the conditions, that some (NOT ONE) volumes on the computers are encrypted. This means you will have to find out which is locked. So you need recovery key ID.
http://www.concurrency.com/blog/enable-bitlocker-automatically-save-keys-to-active-directory/
QUESTION 63
You have a desktop computer that runs Windows 8 Enterprise.
You add three new 3-terabyte disks.
You need to create a new 9-terabyte volume.
Which two actions should you perform? (Each correct answer presents part of the solution. Choose two.)
A. From Disk Management, create a new spanned volume.
B. From Disk Management, convert all of the 3-terabyte disks to GPT.
C. From PowerShell, run the New-VirtualDisk cmdlet.
D. From Disk Management, bring all disks offline.
E. From Diskpart, run the Convert MBR command.
F. From PowerShell, run the Add-PhysicalDisk cmdlet.
Answer: AB
Explanation:
Create a Spanned Volume
A spanned volume is a dynamic volume consisting of disk space on more than one physical disk. If a simple volume is not a system volume or boot volume, you can extend it across additional disks to create a spanned volume, or you can create a spanned volume in unallocated space on a dynamic disk.
http://technet.microsoft.com/en-us/library/cc772180.aspx
To create a spanned volume using the Windows interface
1. In Disk Management, right click the unallocated space on one of the dynamic disks where you want to create the spanned volume.
2. Click New Spanned Volume.
3. Follow the instructions on your screen.Using GPT Drives
http://msdn.microsoft.com/en-us/library/windows/hardware/gg463524.aspx
A GPT disk uses the GUID partition table (GPT) disk partitioning system.
A GPT disk offers these benefits:
Allows up to 128 primary partitions.
Master Boot Record (MBR) disks can support up to four primary partitions and an additional 124 partitions inside extended partitions.
Allows a much larger partition size-greater than 2 terabytes (TB), which is the limit for MBR disks.
Provides greater reliability because of replication and cyclical redundancy check (CRC) protection of the partition table. Can be used as a storage volume on all x64-based platforms, including platforms running Windows XP Professional Edition.
Starting with Windows Server 2003 SP1, GPT disks can also be used as a storage volume on x86-based Windows platforms.Can be used as a boot volume on x64-based editions of Windows 7, Windows Vista, and Windows Server 2008.
Starting with Windows Server 2003 SP1, GPT disks can also be used as a boot volume on Itanium-based systems.
Note: Windows only supports booting from a GPT disk on systems that contain Unified Extensible Firmware Interface (UEFI) boot firmware.
QUESTION 64
A company has a main office located in Miami, and brach offices in Boston, Los Angeles and Portland.
The Office Networks are configured as described in the following table.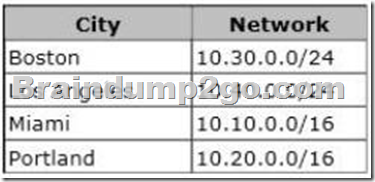 A management computer in the main office, named COMPUTER1, runs windows 8 and several third-party management applications.
– Ensure that only users in the Boston office can connect to COMPUTER1 by using http.
– Ensure that only users in the Los Angeles office can connect COMPUTER1 by using https
– Ensure that only users in th Portland office can connect to COMPUTER1 by using FTP.
You are configuring access to COMPUTER1.
How should you configure windows firewall? (To answer, drag the appropriate elements to the correct location or locations in the answer area. Elements may be used once, more than once, or not at all. You ma need to drag the split bar between panes or scroll.)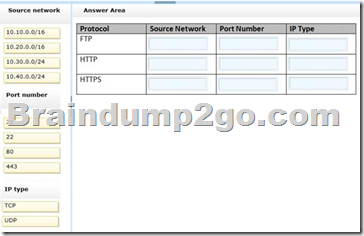 Answer:


Explanation:
Seems to be TCP on every answer.
http://en.wikipedia.org/wiki/List_of_TCP_and_UDP_port_numbers
QUESTION 65
Drag and Drop Question
You administer Windows 8.1 Enterprise computers.
Your company has a team of technical writers that is preparing technical manuals and help files. The team manager wants to ensure that the technical writers are able to restore any documents that been modified within the last year.
You need to ensure that the technical writers can restore Microsoft Word files to any previous versions for up to one year.
Which three actions should you perform in sequence? (To answer, move the appropriate actions from the list of actions to the answer area and arrange them in the correct order.)



Answer:


QUESTION 66
Drag and Drop Question
You manage update compliance for Windows 8.1 desktop computers that are part of a domain.
You need to configure new desktops to automatically receive updates from an intranet resource that you manage.
Which three actions should you perform in sequence? (To answer, move the appropriate three actions from the list of actions to the answer area and arrange them in the correct order.)



Answer:


QUESTION 67
Drag and Drop Question
You have a Windows 8 computer.
You need to migrate from Windows 8 to Windows 8.1 while retaining as much data as possible. You load the Windows 8 media into the DVD drive.
Which three actions should you perform next in sequence? (To answer, move the appropriate three actions from the list of actions to the answer area and arrange them in the correct order)



Answer:

QUESTION 68
Drag and Drop Question
You work for a small company that uses Windows 8.1 computers.
The computers are joined to a homegroup.
You want to share an existing folder named Research. It is located in the Documents folder.
You need to give users the ability to change the files in this folder.
Which three actions should you perform in sequence? (To answer, move the appropriate three actions from the list of actions to the answer area and arrange them in the correct order.)



Answer:


QUESTION 69
Hotspot Question
You provide support for a small company.
The company purchases a Windows 8.1 laptop for an employee who travels often.
The company wants to use BitLocker to secure the hard drive for the laptop in case it is lost or stolen.
While attempting to enable BitLocker, you receive the error message shown in the following image:


Answer:

QUESTION 70
Drag and Drop Question
You administer Windows 8 Pro computers in your company network.
You discover that Sleep, Shut down and Restart are the only options available when you select the Power button as shown in the following exhibit (Click the Exhibit button.)
You need to enable hibernation on the computer.
Which three steps should you perform in sequence? (To answer, move the appropriate three actions from the list of actions to the answer area and arrange them in the correct order.)



Answer:


---
2016 Valid Microsoft 70-697 Study Materials:
1.| Latest 70-697 PDF & 70-697 VCE 84Q&As from Braindump2go: http://www.braindump2go.com/70-697.html[100% [Exam Pass Guaranteed!]

2.| New 70-697 Exam Questions and Answers – Google Drive: https://drive.google.com/folderview?id=0B75b5xYLjSSNMHZoZGJxbElJbFU&usp=sharing